You might have thought this dish was Japanese, trust me you're not alone, it looks like sushi in a bowl after all. But poke bowls (pronounced Pok-eh) are actually a native Hawaiian dish. Traditionally made by fisherman, combining their trimmings of 'ahi' tuna with seaweed and sweet onions. With a nod to the Japanese migrants who worked on Hawaiian pineapple and sugar cane plantations from 1885 they started serving it with a bowl of rice and dressed with soy sauce and sesame oil.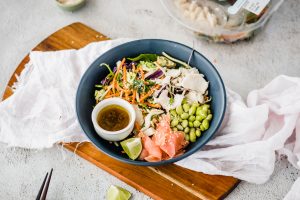 Typically poke bowls are left quite plain –Raw fish, Rice and a bit of crunch from nuts or onions and a delicious sauce to finish it off. But as the bowl has been adopted by other cultures and most recently inner-city cafes the bowl has started to become more complex. But what they might not like you to know is that it's still just as easy to make at home!
The possibilities really are endless when it comes to poke bowls. Start with your favourite base and protein and then add all the flavour from there!
This is a great family dinner as you can have it all set out as a DIY station. Here are just some suggestions on what to set out (with barely any prep time at all!)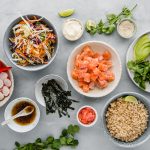 Base – think Carbohydrates
Brown or white rice, tri coloured quinoa, black or wild rice or salad leaves for a brighter option
Add on Protein – (it doesn't have to be raw fish!)
Whilst it is typically raw fish – either tuna or salmon it doesn't have to be. You can top it with cooked salmon, tin tuna (which is perfect for work lunches), marinated chicken or even tofu fried rice.
Load in the Colour
Think all things veggies –This is where out poke slaw kit keeps it easy! Add in a good serving of the slaw then when it's time to get saucy (down below!) dress it with the provided dressing. Other vegetables that work great are shaved carrot or cucumber, red cabbage, thinly sliced capsicum, edamame beans, peas, roasted eggplant, avocado, and red onion.
A Little Extra
This is time to bring out the flavour bombs. Fresh herbs like mint or coriander, chilli flakes for a bit of spice or wasabi peas for crunch. Or with another nod to the Japanese sushi ginger, nori (seaweed) and a little sprinkling of sesame seeds.
Let's Get Saucy
The possibilities are endless, that is why we made it easy and packed in a delicious sesame dressing with the poke slaw kits. Other sauces that work well (orin addition!) are Ponzo, Kewpi Mayo or a little siracha for the heat.
What are you waiting for get chopping and dinner will be on the table in just a matter of minutes! Set it out as a DIY for the family dinner and let everyone build their own bowl.