Who hasn't left work with a growling stomach but little energy to shop and cook? You're not alone! When you're busy juggling work, social life, family and a million other things, the last thing you want to do at the end of the day is find a recipe that, firstly, everyone will eat and, secondly, doesn't take hours to cook!
You're under a lot of pressure! You need to save time and money while you're nourishing yourself and your family. The answer – meal prep! When you first think meal prep, it's hard to not assume you have just allocated half your weekend to the job you dislike the most. But it doesn't need to take up this much time. A few simple tweaks to your routine will allow you more free time during the week.
Plan it
If you know what you are cooking each night of the week and which day you are grocery shopping it takes the load off trying to decide what to eat at the end of the day. It allows you to plan your shop so you don't have to run back to the grocery store 3 times a week because you forgot the key ingredients.
Life is unexpected and there is always something that pops up when you least expect it. If you have the ingredients and know what you need to do, it allows you to stick to your meal plan without the added layer of stress.
Chop and Prep
Half the battle with cooking a healthy meal is taking the time to cut up all the vegetables you are using. You would be amazed at the time you save by doing this at the beginning of the week. What's even better is you can buy precut veggies, stir-fries and salads and the hard work has already been done for you! Try our recipe for Crispy Tofu and Soba Noodle Salad ready in just minutes.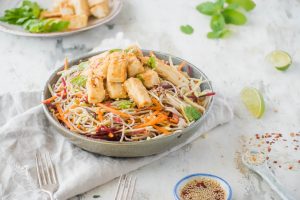 There is nothing better than coming home at the end of the day and being able to throw all the ingredients straight in the pan to make a delicious meal! There's less washing up during the week and you've added an extra 20 minutes back into your day.
Double the meal
If you are anything like us, on a weeknight you're thinking of food, shower and sleep. You wake up in the morning with little time to get everyone out the door and you certainly don't have time to prepare an exciting lunchtime menu! When we are time poor it's easy to make poor food choices and often rely on the local café or takeaway shop for lunch on the run. For a simple solution, simply double the ingredients you are cooking for dinner the night before to have a delicious homemade lunch leftover for the next day! The recipe for Spring Goats Cheese Pasta stores well and reheats in minutes for a wholesome meal.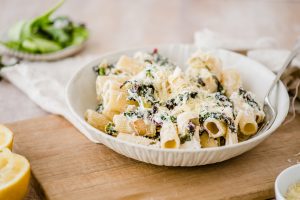 There are also so many prepacked salad lunches available in the supermarket. From fresh, classic Caesar Salad Bowls to creamy pasta salads – the menu options are endless. It all comes back to planning your menu before the week starts so your lunch isn't an afterthought.
Premade snacks
We have come to the realization that the 1pm, 2pm, 3pm and 4pm munchies are inevitable.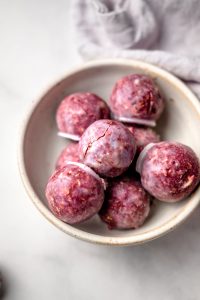 The key is to be prepared with some healthy and prepared options so that you don't reach for the mid-afternoon chocolate bar to stem your cravings.
You can easily prepare a some pre-portioned healthy snacks for the week ahead in less than 10 minutes – energy balls, popcorn, cut fruit and veggies or yoghurt slices are some quick and easy ideas. Try our favourite recipe for Love Beets Raw Donut Holes.